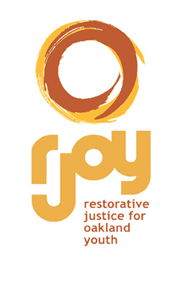 RJOY works to interrupt tragic cycles of incarceration, violence, unsafe schools and communities, and wasted lives by promoting a cultural shift toward restorative responses to harm. We actively engage youth, their victims, and their families, schools, and communities in a shared search for ways to repair harmed relationships and prevent their recurrence. We provide education, training, and technical assistance and collaboratively launch demonstration programs with our school, community, juvenile justice, and research partners. Beginning in 2007, RJOY's city-funded West Oakland Middle School pilot project eliminated violence and expulsions and reduced suspension rates by 87%. By the end of our time at Cole, students conducted their own peacemaking circles and learned to communicate in non-violent ways. We continue this groundbreaking work in some of Oakland's most challenging schools, and you can partner with us by becoming a donor of much needed supplies.
Donate via Credit Card or eCheck
Is my donation and credit card info secure?
Yes, the security and confidentiality of your information is our highest priority. We will not sell, trade or share your personal information with anyone else, nor send donor mailings on behalf of other organizations, and we will only share personal information if you have given us specific permission to do so.
Is my donation tax deductible?
Yes, we are a fiscally sponsored project of Community Initiatives, which is a public 501c3 organization recognized by the IRS. Your donation is tax-deductible to the fullest extent permissible by law.
How do I know that my donation was made successfully?
You will receive an emailed receipt immediately after your donation is submitted and your credit card is processed. Your donation will also show up on your bank or card statement within 1-3 business days.
Do I get a receipt?
Yes, a receipt is sent to your email inbox once your donation is processed. Please be sure to keep a copy of your receipt for tax purposes. If you select a recurring donation, you will be sent an individual receipt each period when your donation is processed.
Is my donation private?
We will not share or sell a donor's personal information with anyone else, nor send donor mailings on behalf of other organizations.